Enhancing IPR protection against counterfeits
In September 2010, KIPO launched the Special Investigation Police for Trademark (SIP) as a way of enhancing law enforcement on counterfeits, and we established offices in the cities of Seoul, Busan, and Daejeon

In 2020, SIP criminally arraigned 617 suspects found producing and/or selling counterfeit goods, with a total of 720,471 counterfeit goods being seized.

Due to the boom in e-commerce, online transactions of counterfeit goods have been rapidly increasing. To efficiently tackle this issue, in November 2011, we established an online law enforcement task force equipped with digital forensic equipment to firmly regulate online transactions of counterfeits. We arrest sellers of online counterfeit goods and block and/or shut down offensive websites.

In addition, we actively reinforce investigations into those counterfeit goods that have a great impact on people's lives, such as the large-scale illegal manufacturing and distribution of counterfeits related to health and safety.
< Law Enforcement Results >
Category
2012
2013
2014
2015
2016
2017
2018
2019
2020
Criminal
arrests
Number of
individuals
302
376
430
378
351
362
361
376
617
Number of
seized goods
131,599
822,370
1,114,192
1,197,662
584,094
691,630
542,505
6,269,797
720,471
Improvements to IPR protection laws and systems
The KIPO is in the process of revising laws to protect intellectual property rights.
Through the revision of the Patent Law in 2019, the party who denies the specific behavior of the infringement claimed by the patent holder Partially shifted the burden of proof by asking them to present their specific behavior.
In addition, in case of intentional infringement of patents or trade secrets, three times the amount of damages shall be compensated. A system of punitive damages was introduced.
The punitive damage compensation system was expanded to trademarks and designs in 2020, and to idea stealing in 2021.
In addition, through the revision of the Patent Act in 2020, it has been improved so that damages that exceed the production capacity of the patentee can be compensated.
The realization of damages was extended to trademarks, designs, and trade secrets in 2021.
In addition, by amending the Act on the Prevention of Unfair Competition and Protection of Trade Secrets in 2021,
To establish a national-level, cross-ministerial master plan for intellectual property protection,
In the event of non-compliance with the recommendations for corrective action against unfair competition, a system was also introduced to publicly disclose the violation.
Currently, the KIPO is promoting amendments to the law to improve the evidence collection system in patent infringement litigation in order to strengthen the protection of intellectual property rights.
Improved systems to protect corporate trade secrets
In June of 2012, we established the Trade Secret Protection Center (http://www.tradesecret.or.kr), a specialized and exclusive organization that provides useful information for protecting corporate trade secrets.

We produced a series of TV commercials to raise awareness and publicize the severity of trade secret leakage. We also provided field training for improved understanding of the trade secret protection system.

To alleviate the difficulty of authenticating trade secret ownership during infringement litigation, we also introduced, in November of 2010, the Trade Secret Certification Service, which received a total of 167,293 cases by the end of July 2021. This service operates by taking the hash values from trade secret e-documents and combining them with authorized time values from trusted third-parties, thereby creating time stamps. Time stamps are then registered with the Korea Institute of Patent Information (KIPI) to prove the existence of original copies of trade secrets, as well as their initial dates of possession.

In addition, we developed a standard management system to provide low-cost management with minimal staff requirements for companies struggling to effectively manage their trade secrets.
Reward system for reporting counterfeit goods
Since 2006, we have implemented a reward system to encourage the reporting of counterfeit goods and their distribution, as well as to raise public awareness of the harmful effects of counterfeits.

The manufacturers, distributors, and sellers of counterfeits are all subject to reporting. Citizens are required to identify themselves when reporting illegal activities, thereby ensuring reliability and cutting down on false reports. In 2020, an amount of KRW 107 million was awarded in a total of 89 cases. Online sales accounted for the largest number of cases at 79 with an amount of KRW 100 million awarded.

There have been 1,644 cases submitted during the 14 years since the system was first introduced in 2006, with a total of KRW 2.4 billion awarded. The seized counterfeit goods were valued at KRW 4 trillion when matched to the retail prices of the genuine articles.

By encouraging individuals to voluntarily report counterfeiting activities, we have paved the way for a wider public understanding of the harmful effects of counterfeits.
IP-DESK
KIPO operates IP-DESKs to protect and further promote IPRs to Korean companies doing business overseas. Recently, additional IP-DESKx were added in areas where Korean companies are frequently embroiled in IPR disputes. In 2014, we set up an IP-DESK in Frankfurt, Germany and an IP-DESK in Tokyo, Japan was then added in 2015. In 2016, we set up an IP-DESK in Xi'an, China, which is an economic hub of western China. In 2017, we added an IP-DESK in Jacarta, Indonesia, and an IP-DESK in New Delhi, India. Then we set up a new IP-DESK In Hongkong in 2019. Subsequently, an IP-DESK was be opened in Manila, Philippines in 2020. Recently, in 2021, additional IP-DESKs were added in Moscow, Russia, and Mexico City, Mexico. As of June 2021, we were operating a total of 17 IP-DESKs in 11 countries.

IP-DESKs provide Korean companies, whether active in or preparing to enter foreign markets, with consultations on registering and protection IPRs and resolving IPR disputes. In addition, we hold seminars to share information on how to prevent infringements.

KIPO also held seminars to help IPR-related government officials of China, Thailand, and Vietnam to enhance their capabilities of enforcing protection against counterfeit goods. And we are making efforts to develop cooperative channels with foreign IPR related organizations in order to protect the IPRs of Korean companies operation overseas.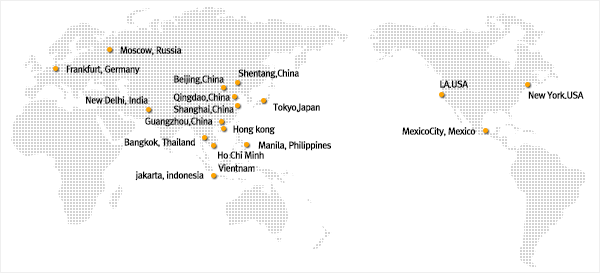 Korea's IP-DESKs around the world
Last updated 15 November 2021
Intellectual Property Protection Policy Division
Intellectual Property Protection Support Division
Intellectual Property Investigation Division